Browsing and surfing in isolation – recommendations from our team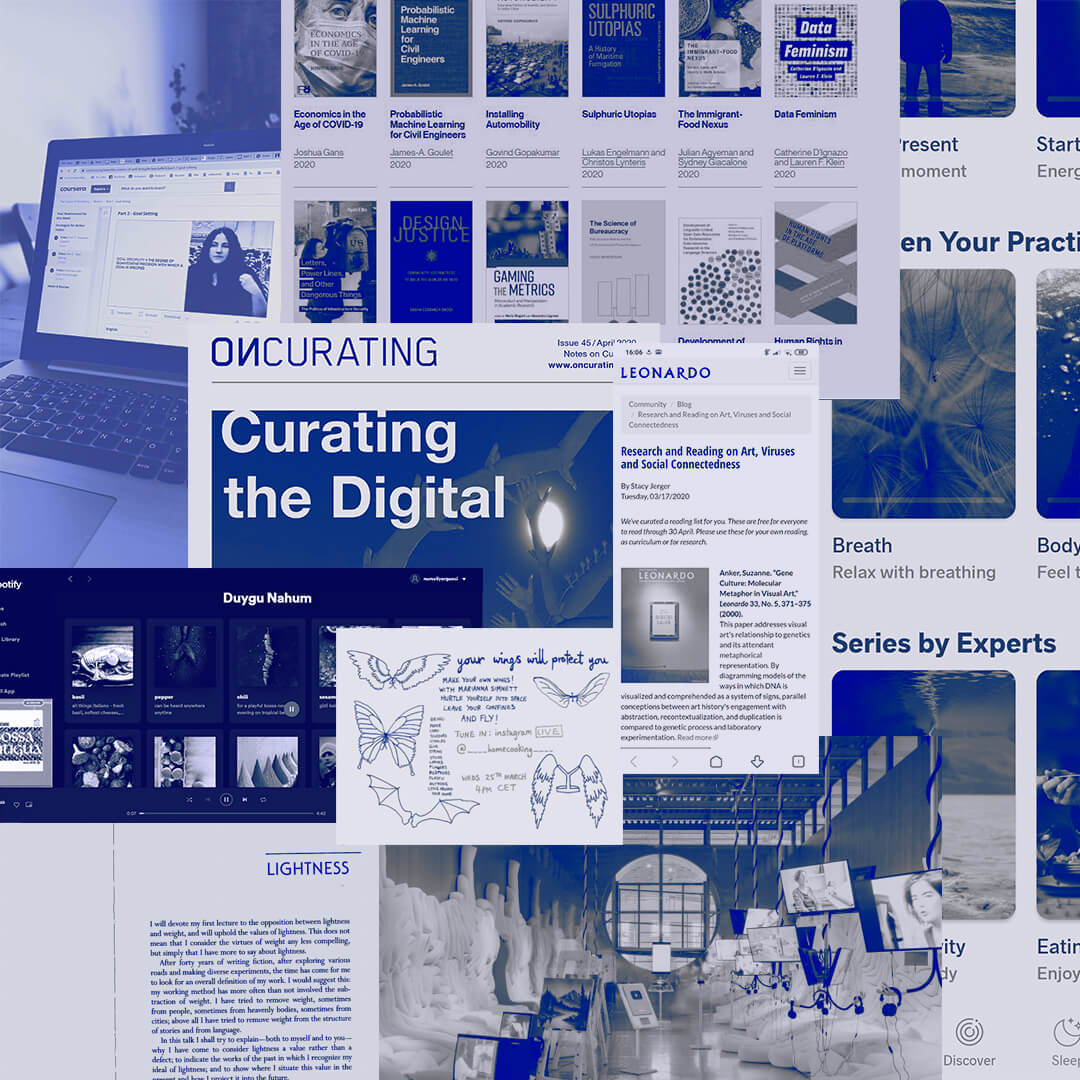 May 7, 2020
Most of what we know about "living" has changed in just a couple of months. The habits we had are being broken; the gatherings, openings, meetings are canceled; our ways of working are completely different for an uncertain amount of time.
Even for those of us lucky enough to keep on working from home, being confined has made us look for different ways for our minds to wander. Searching online to find some virtual events (concerts, interviews, webinars…), new tools and applications, delicious recipes to cook, music to dance, movies, games… the list goes on.
In a way, it is also a unique time to look at what's become available. Suddenly a flux of resources and content are unlocked – digitally – for the public, noticeably in the arts and cultural domain. Amongst them, our team compiled a list of favorites to share with you to browse and to share.
…
P.S. It is totally understandable if you do not have motivation to do something productive. You don't have to.
1. Reading
Research and Reading on Art, Viruses and Social Connectedness – Reading list by Leonardo
Curating the Digital – Issue by OnCurating, digital copy free for download; hard copy available for sale
MIT Press Open Access – a collection of books from MIT Press that are highlighted for sale, but whose digital versions are also available under it's Open Access initiative
American Lectures by Italo Calvino – especially recommended is the Lightness chapter
The Renaissance Society recently made available in PDF some of their out-of-print publications
2. Listening
Seven Days Walking album by Ludovico Einaudi
Meditopia – an app for personalized meditation for mental well-being. It is easy to track your own journey and there are different series of sound recordings and music to suit your mood.
Duygu Nahum on Spotify – the smell of a specific seasoning alive on your nose when listening to each playlist!
3. Learning & missing art
Home Cooking– an artist and curator-led open-source digest of activities, poetry, movement, and live events begun in March 2020
Weird Sensation Feels Good – not an ordinary "online exhibition"; it was digitally-born
Free online Ivy League courses– compiled here in a list. There is a huge variety across disciplines: from computer and data sciences to humanities and arts.
Curious Minds ArtScience Monthly by STATE Studio (Berlin) – Open and informal evening workshops consisting of an artist and scientist each presenting their work, a facilitated discussion and Q&A session.